"
In the context of the complicated situation of the Covid-19 pandemic, the gifts from the university are a great encouragement for us to keep our spirits up, overcome difficulties … On these special days, we feel most clearly the sharing, affection and special care of the university",
said Antany Lodjan, Lao student who is staying at the dormitory of the University of Danang – University of Science and Education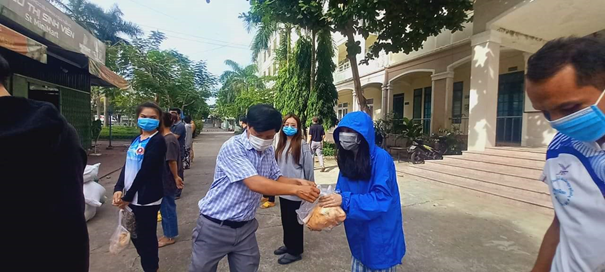 The gifts were delivered to the students.
Having known the complicated situation of the Covid-19 pandemic greatly affected the lives of students staying in the dormitory, the University quickly found ways to help students overcome difficulties.
On August 2, with the support and sharing from the faculty deans, heads of departments and lecturers of the University, the Department of Science and International Cooperation gave 109 gifts with a total budget of more than 20 million to Lao students.
In particular, on August 3, Department of Student Affairs (on behalf of benefactors and sponsors who are families and Thanh Tam Volunteer Association) delivered 150 gifts with the total value of 40 million VND to Lao students and Vietnamese students who are "stuck" in the dormitory of the University.
Propaganda and advocacy measures are also taken to ensure students comply with the regulations on distance and disease prevention. The Dormitory Management Board has also set up quarantine checkpoints to control the movement in and out of the dormitory.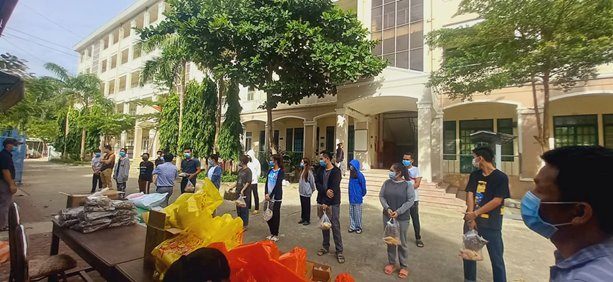 The university also required students to wear masks and keep a safe distance
MA. Huynh Bong – Deputy Head of Department of Student Affairs shared:: "
On behalf of the students, I would like to express my deepest gratitude to the benefactors, sponsors, lecturers and officials for sending gifts to help the students. We hope to continue to receive the companionship and sharing from benefactors. With this responsible support, the students will soon overcome difficulties, have more motivation to continue studying with peace of mind."
.
"The dormitory is currently quite empty and quiet, the Dorm Management Board also tightens the tasks of propaganda and disease prevention... We were surprised and touched when receiving many meaningful and practical gifts during this time. … I consider myself very lucky to stay in the dormitory..." – Ho Thi Thanh Dieu – 18CDL1 emotionally shared.
Under the direction of the Board of Rectors, with the timely coordination of the Student Affairs Department, the Department of Science and International Cooperation, the Youth Union and the Faculties, and the support of sponsors, the students have felt secure to observe the regulation on the pandemic prevention and control... No one is left behind, but all share, unite, join hands to fight the pandemic, to make joint efforts and have the determination to win the Covid-19 pandemic, which is the victory of humanity and sharing.